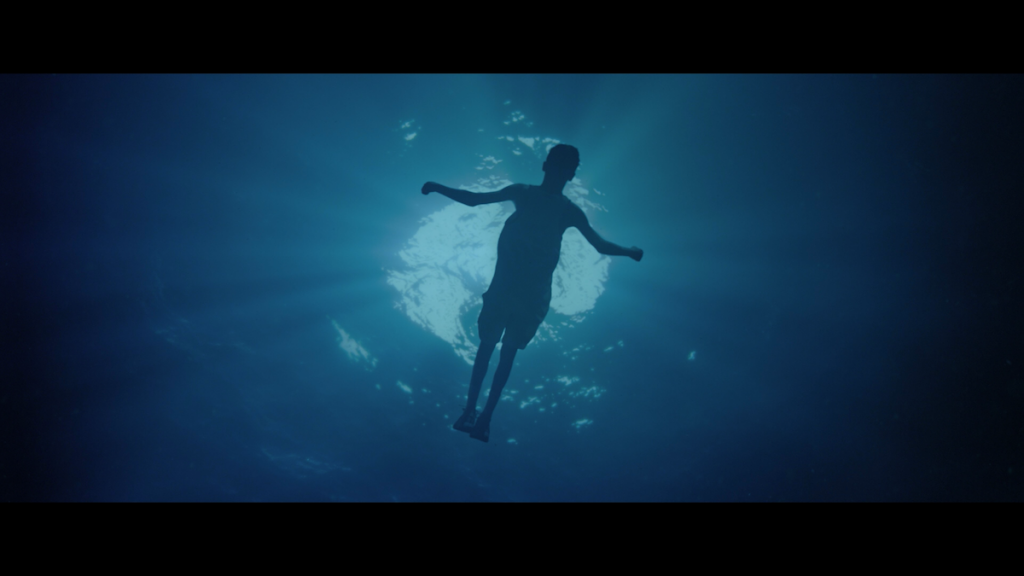 John Smith is a 14-year-old boy who lives with his family Joyce and Brian in St. Louis, Missouri. He is adopted from Guatemala and has some issues with authority that finds him getting in trouble.
One day, he goes out on a frozen lake with his friends Josh and Reiger but the ice turns out to be too thin. The three fall in but Josh and Reiger find their way to the surface to be saved. Two rescuers head into the water but they can't find John. Thinking it is a lost cause, Tommy Shine is about to give up when he hears the voice of his chief telling him to keep looking. He looks some more and brings John to the surface.
His vitals are incredibly low and he is taken to the hospital to try to be revived. With no luck, the attending physician Dr. Sutterer tells them that they should prepare for a bad outcome. She prays to God to help her son and his pulse shows signs that he is not gone yet. He is sent to a better-equipped facility to help him.
BREAKTHROUGH is directed by Roxann Dawson. She has done a lot of TV and, from what I could find, this is her first feature film. In this, there is the whole religious aspect t the film with some time spent in the spirituality of the characters. Plus, the point of the film is to inspire faith in Christianity with a miracle.
 
Cast
Chrissy Metz – Joyce Smith
Josh Lucas – Brian Smith
Marcel Ruiz – John Smith
Topher Grace – Pastor Jason Noble
Mike Colter – Tommy Shine
Sam Trammell – Dr. Kent Sutterer, Abby's father.
Dennis Haysbert – Dr. Garrett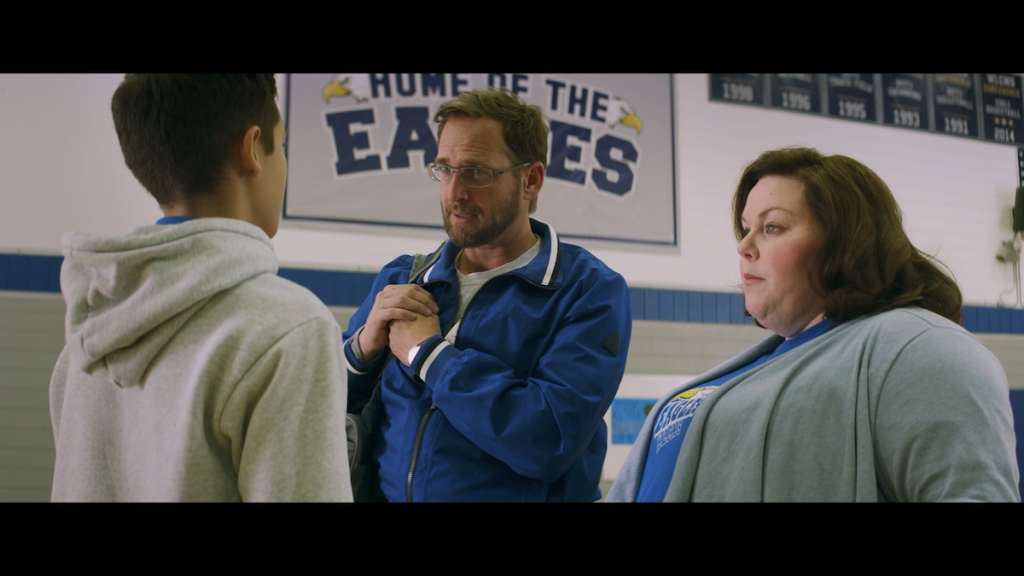 VIDEO QUALITY:
4k UHD
The video is a 2160p HEVC presentation that has been captured digitally. The cleanness of the images really shows in the details but not really anywhere else. There isn't any brilliance in the colors to the point that it looks like it has been purposely muted. However, the yellow on the first responders and the blue in the school colors are the exception. The blacks are dark but shadowy rather than deep. Even the skin tones are somewhat muted.
AUDIO QUALITY:
4k UHD
The audio is a DTS-HD Master Audio 7.1 mix that does utilize all of the channels available. There is ambient sound of the busy school halls and classroom environments. The other portion that sounds amazing is during the underwater scenes. All of the speakers immerses the viewer to give the idea that you are under the ice as well. There is also some echoing sounds in the hospital due to the emptiness of places like that. The dialogue is well prioritized with the effects.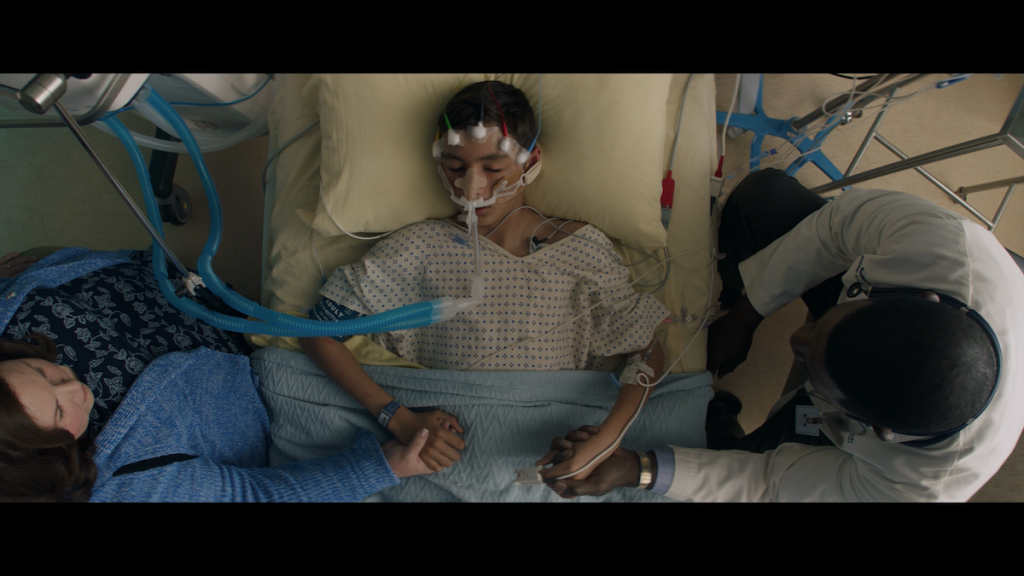 SUPPLEMENTS & PACKAGING
-Audio Commentary: with DeVon Franklin and Roxann Dawson.
 
 Disc Details
2-disc set w/1 4k UHD and 1 Blu-ray
Digital copy
 
Running Time
116 mins
 
Edition Ratings
Rated PG
Region Coding
Region Free
 
4k UHD
Video Resolution
2160p HEVC H.265
HDR: HDR10+
Aspect ratio: 2.39:1
 
Audio Mixes
English DTS-HD Master Audio 7.1
Spanish Dolby Digital 5.1
French Dolby Digital 5.1
 
Subtitles
English SDH
French
Spanish
 
Blu-ray
Video Resolution
1080p AVC MPEG-4
Aspect ratio: 2.39:1
Audio Mixes
English DTS-HD Master Audio 7.1
Spanish Dolby Digital 5.1
French Dolby Digital 5.1
Subtitles
English SDH
French
Spanish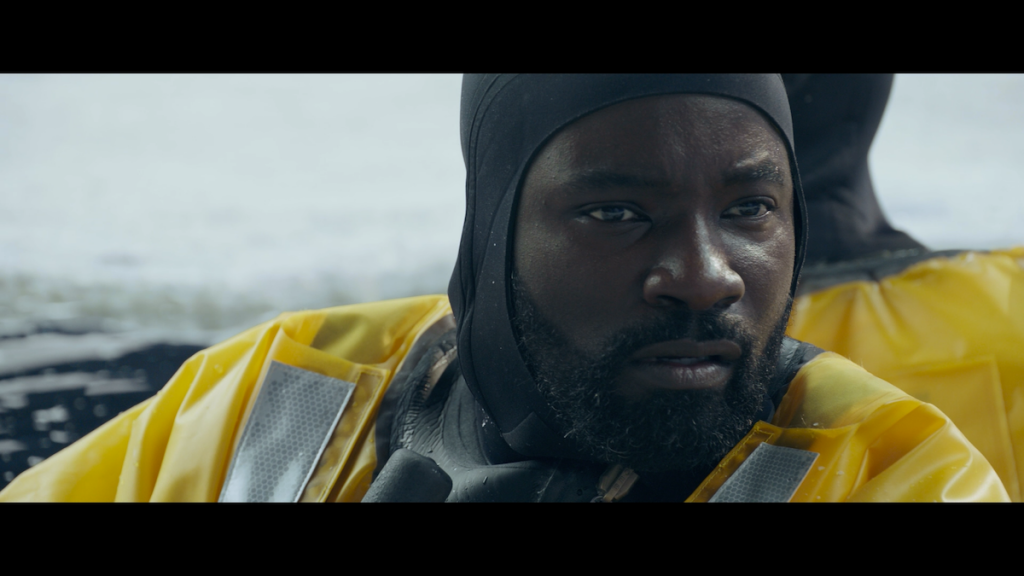 THE BOTTOM LINE:
I was expecting BREAKTHROUGH to be about what to do for John rather than a story about him. Also, the religious aspect was expected to be a big part of the movie so viewers should be aware of this depending on your tastes. The 4k UHD has a nice transfer for video as well as the audio. The commentary is the only extra and it is about average. Overall, if you're a fan, pick it up. If you're unsure, maybe rent it first.
Original Source